3 Essential Software Tools for Perfect Sound Quality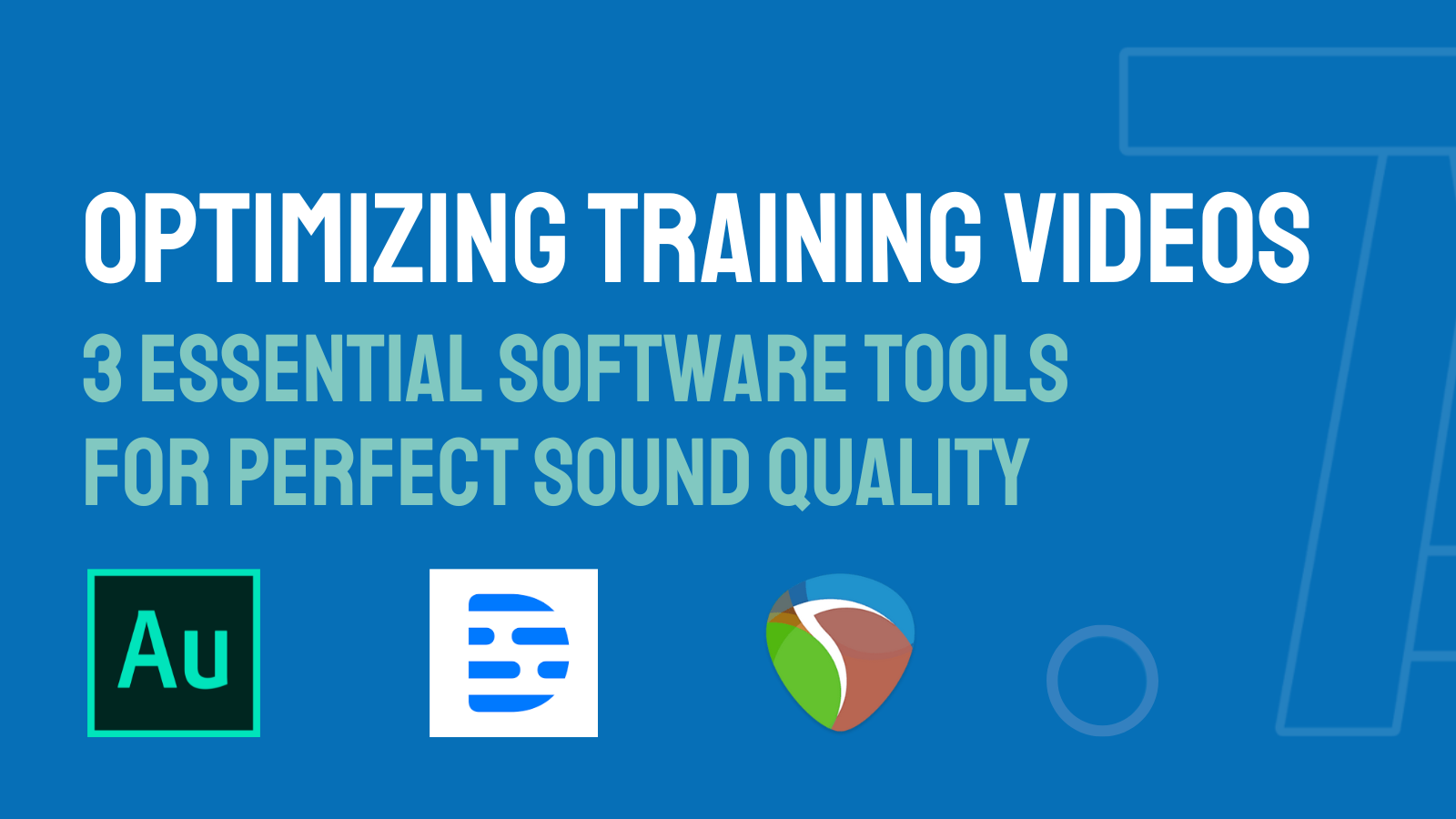 This article specifically refers to software programs used for sound editing and enhancement. Each tool offers unique features and complexity rates, allowing creators to choose the software that best fits their requirements, budget, and skill level.
Adobe Audition
Adobe Audition is a professional-grade audio editing software widely favored by L&D creators. It offers a complete suite of recording, editing, mixing, and mastering audio tools. With features like noise reduction or audio restoration, Adobe Audition allows creators to take the sound of their training videos to the next level.
Pros:
A comprehensive set of tools and features for professional audio editing.
Seamless integration with other Adobe Creative Cloud applications like Adobe Premiere Pro.
Extensive format compatibility – ensures flexibility in handling different audio sources, whether voice recordings, background music, or sound effects.
Cons:
Adobe Audition is part of the Adobe Creative Cloud suite, which requires a subscription-based pricing model)
The program's complexity can make navigating it hard for non-professionals or those unfamiliar with audio editing.
Adobe Audition is a resource-intensive software, and its optimal performance may require a computer with sufficient processing power and memory.
Descript
Descript is an innovative audio and video editing software that stands out for its unique text-based editing approach. It combines transcription and editing capabilities, allowing users to edit their audio and video content by managing the text transcript directly. While it may have some limitations in advanced audio editing features, Descript's user-friendly interface and transcription integration make it a popular choice among content creators, including L&D managers, for creating and editing engaging training videos.
Pros:
Descript offers seamless integration of transcription and audio/video editing. Its automatic transcription feature allows for quickly generating accurate transcripts.
An innovative text-based editing approach allows users to edit audio and video by directly manipulating the text transcript.
Provides collaboration features that enable team members to work together on editing projects. L&D managers can easily share and collaborate on projects, leave comments, track changes, and more.
Cons:
While Descript offers basic audio editing features, it may lack some of the more advanced audio editing options, such as extensive audio processing, mixing, or mastering capabilities.
Core features are relatively user-friendly, but mastering its more advanced features may require some dedicated time and effort.
Descript operates primarily as an online tool and a stable internet connection is required to access its features.
Reaper
Reaper is an adaptable digital audio workstation (DAW) software that has gained popularity among L&D creators due to its affordability and robust capabilities. It provides a flexible and customizable environment for recording, editing, and mixing audio.
Pros:
It offers a full-featured DAW at a fraction of the cost compared to other professional-grade software options.
Provides a wide range of customizable actions, shortcuts, and scripting capabilities, empowering users to create personalized workflows and optimize efficiency.
Supports a vast number of plugins, including VST and AU formats. This extensive plugin compatibility allows L&D managers to enhance their audio editing capabilities with different third-party effects, virtual instruments, and audio processing tools, expanding creative possibilities.
Cons:
Reaper can be challenging for users new to digital audio workstations or complex audio editing software due to its powerful features and customization options.
While Reaper offers customization options, some users may find its default interface design less intuitive or visually appealing than other software options. However, this can be addressed by customizing the interface to suit individual preferences and workflows.
Unlike some other DAWs, Reaper has a relatively small selection of built-in audio effects and virtual instruments.
These three software programs — Adobe Audition, Descript, and Reaper — are frequently used by L&D creators for their audio editing needs.
Let us know if you are working with something else!