Product
Workademy is More than a Learning Management System! Workademy is Your e-learning partner providing all the needed expertise and tools.
With Workademy you can:
Start creating courses for your team, partners, and customers in no time
Get valuable insights through our integrated analytics module
Save time and money with our customized solutions
Get advice on your e-learning strategy and align it with your business goals
What You See is What You Get Course Editor

No need to jump between several interfaces or even applications. Create and edit courses in the same interface where you view them.
Just toggle the "editing mode" button and start editing inline. We have compared the speed of creating rich-text content with top-5 LMS and figured out that it takes up to 5 times less time to create content with Workademy.

Increase the Engagement with Gamification

Easily add the frames to the library that the learners can choose after finishing parts of the course.
Attach the achievements to the course progress, passed lessons, or answered questions.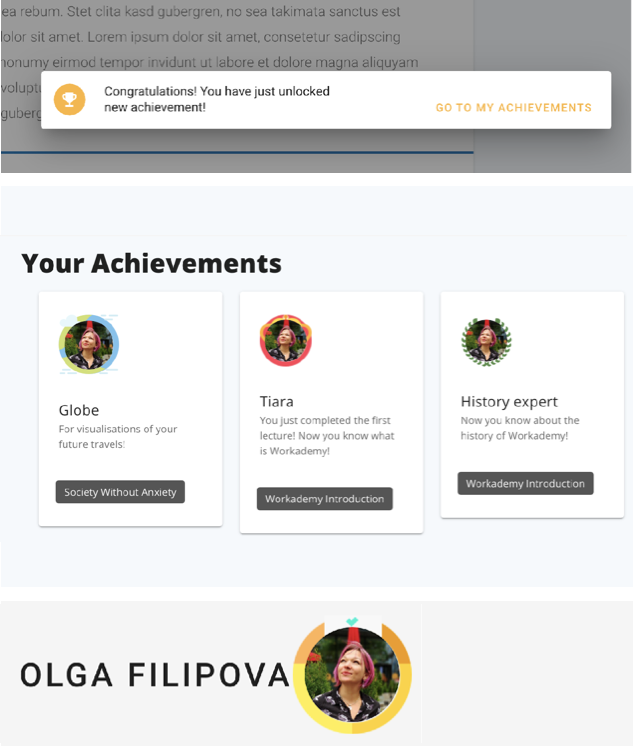 Improve Your Courses With Our Analytics Module Insights

Measure metrics like deepness of completion, number of enrolled, logged in and registered learners, number of answered questions, seen lectures, and issued certificates. Aggregate data by days, weeks, months, and years. Drilldown by course, module, and lecture.