Bootcamp of Online Academies
Academies at work. Academies that work.
Preserve and share unique knowledge in your company – create an online academy now!
Cut productivity losses, reduce employee frustration and improve the bottom line.
48+ hours of guided "learning by doing"
8+ experts sharing their insides and providing individual support
Your 1 and only corporate online Academy as an outcome
Scroll
€ 4.999
Early bird (till Feb 14)
First week 

money-back guarantee

Limited number 

of participating companies
Register now!
About this Bootcamp
This is for you if you are a CEO, HR manager, L&D manager – or any other representative of your company who will take the lead in digitizing your company's knowledge.
In this Bootcamp you will:
Identify the purpose and learning objectives of your academy
Create a unique and compelling e-learning concept
Learn to plan and build online courses
Structure the content of your online academy
Launch your academy and test it within a focus group
Pitch the results of your work on the Demo Day
After the Bootcamp, you will be able to:
1

Digitize your internal training programs. Build an effective ecosystem for your internal knowledge sharing!

2

Automate your onboarding programs. Transform your onboarding processes into an engaging remote experience!

3

Ensure transparent knowledge exchange in your company. Optimize sharing of your company's unique knowledge!
View the full program
When

Feb 22 - Mar 19, 2021

How long

4 weeks, 12 hours per week

Format

webinars, assignments, every-day online support, consultation calls

Experts

top-professionals from e-learning industry with 50+ combined years of experience
View bootcamp experts
Early bird (till Feb 14)
€ 4.999
Full price (feb 15 - 22)
€ 7.499
Access to the bootcamp for up to 3 members of your team
Individual every-day-support from our experts via multiple channels
Recorded videos of Webinars
Bonuses:
1

Audit:
Analysis of your company's learning materials and objectives (VALUE: €2.000 included with your tuition)

2

After-Bootcamp-Support:
Ongoing, individual support for full 3 months from our experts. (VALUE: €3.000 included with your tuition)

3

€1.000 credits

for the subscription to the Workademy platform. (no expiration date; see full prices

here

)
First week money back guarantee!
If during the first week of the Bootcamp, you realize it is not for you — we guarantee your money back. We will keep a €200 fee for administrative purposes.
F.A.Q.
Can I work full-time and still complete the program successfully?
The bootcamp program requires about 12 hours of your time a week. Surely you can complete the program if you work full-time. However, it would be advisable to take at least 12 hours off for the time of the bootcamp – this will certainly benefit everyone involved and the project!
What if something comes up, can I put the program on hold and complete it at another time point?
Yes! You can take a break and then participate in one of our next bootcamps. The tuition paid has no expiry date.
What kind of ongoing support do I get after having finished the program?
You get 3 full months of continuous support from our experts. This includes 2 hours of weekly individual support from our experts for every single project. We make sure that you finish what you have started during bootcamp!
How will I get access to the program?
After filling out the application form you immediately receive an email with detailed instructions. After the payment has been proceeded, you get all the access details.
About us
Workademy has worked with over 30 companies to deliver world-class e-learning content that has successfully trained over 100,000 employees worldwide.
Workademy helps companies to scale the knowledge of any single employee to the whole organization.
We offer a cloud- and subscription-based learning platform – it helps you manage your internal knowledge using an integrated smart-course-builder.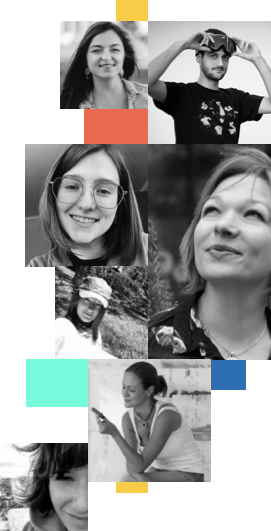 My company needs an online academy but the Bootcamp is not a fit right now
You are aware what to do and how to do it and need help in content creation?
Get a quote